Ukraine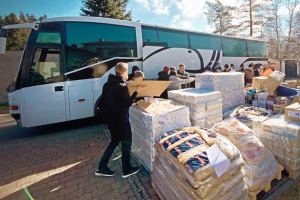 Get Aid into Ukraine
Updated April 22, 2022
Get emergency humanitarian aid into some of the hardest-hit places in Ukraine. Our team is sending semi-trucks full of food and medical supplies to people in need. Many are in war zone areas where little to no aid exists. One pallet of food provides 1,200 meals and costs about $1,000 (less than $1 per meal). These pallets are being delivered within 72 hours of purchase. You may give to provide much-needed aid to those in the greatest need.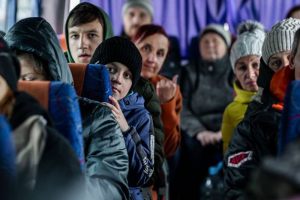 Get Refugees Out of Ukraine
Updated April 22, 2022
Get refugees out of hard-to-reach places across Ukraine. Our rented 55-person buses are helping Ukrainians escape to neighboring countries. The buses reduce the wait time at the border and keep Ukrainians from exposure and risk of walking across foreign borders. Our JV network of volunteers in Central and Eastern Europe, along with our partners in Western Europe are working together to offer long-term housing, personal items, counseling, Bibles, and Church community. The cost to care for a Ukrainian in transit is about $100. You may give to support a refugee's transit, food, temporary housing, and spiritual care.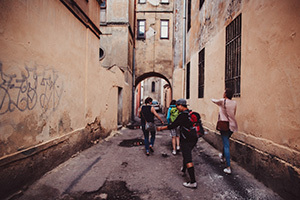 Ukraine Crisis - General Fund
Josiah Venture is responding to the urgent crisis in Ukraine in two ways: by supporting the work of our team and local churches on the ground inside Ukraine and by assisting Ukrainian refugees as they move into neighboring countries.

Most of our JV Ukrainian national missionaries are currently staying in Ukraine to serve those around them. They are coordinating with churches inside Ukraine to provide desperately needed shelter, food, evacuation, medical supplies, personal care, spiritual encouragement, Bibles, and the hope-filled message of the gospel during this crisis. Some of our missionaries have even been put in charge of city-wide operations for emergency aid, shelter, and refugee care.

Our JV staff in Poland, Czech Republic, Slovakia, Romania, and Hungary are assisting refugees coming across the Ukrainian border. We are prepared to provide full-scale accommodations for up to 400 refugees in and around our training centers in the coming weeks, as well as help them flow through to local churches for long-term care. Most of these refugees are women and children, many of whom had to leave their husbands in Ukraine since they are required to stay and defend the country.

Our team is making sure they have food, clothing, personal items, supplies for small infants and children, personal counseling, Ukrainian-language Bibles, and many other practical and spiritual needs.

We are supporting them throughout this crisis and preparing up a long-term program for providing assistance afterward. Your donations to our Ukraine Crisis Fund will directly support this effort.